Honeywell

Lyric
Smart, Sleek and Simple
Powerful and efficient, the Lyric Controller delivers a great connected home experience right out of the box. It puts consumers' homes at their fingertips – all from one vibrant, 7-inch display. It's intuitive, easy to learn, and easy to use, whether you control the system with a tap on the touchscreen, or the sound of your voice!
When considering Lyric for upgrading older Honeywell wireless systems, your existing 5800 series one-way wireless devices will work with Lyric!
See our review of the Honeywell Lyric Wireless DIY Security and Home Automation System here.
Supports SiX™ two-way encrypted and legacy 5800 Series wireless sensors

ATT and Verizon 4G LTE cellular options

On-board Wi-Fi® and Z-Wave® for maximum flexibility

Built-in front-mounted camera* can snap a picture when the system is disarmed and notify your customers

Users can control security, thermostats, lights, locks and video with one touch – at the display or via their smart devices• Quick Sync feature enables fast connection to Wi-Fi with WPS enrollment – no passwords or network information required

100+ customizable smart scenes
Supports a total of six Honeywell Z-Wave thermostats or four Lyric Wi-Fi thermostats

Eight compatible IP cameras

128 wireless zones plus two hardwired zones

48 simultaneous users

6,000 event logs

Contemporary design blends with any décor

Wall or desk mount
Build The Perfect Wireless Home Security System For Your Home With Lyric
HONEYWELL LYRIC PANELS AND KITS
SIX SERIES ENCRYPTED ADD-ONS
LYRIC CELLULAR RADIO ADD-ONS
COMPATIBLE 5800 SERIES ADD-ONS
Voice
You talk.  Lyric listens.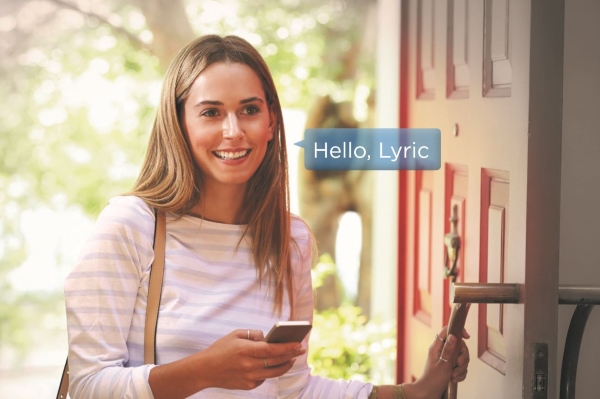 The Lyric Controller responds to simple voice commands, letting you enjoy convenient, hands-free home control.  Simply say "Hello Lyric" or "OK Lyric" to bring it to life.  Your mornings can run more smoothly by saying "Wake Up" and having the heat turned up to the perfect temperature.  Ready to turn in?  Just say "Bedtime" to arm your security system, turn off the lights, ensure doors are locked, and your thermostat lowered. Say hello to convenience.
Smart Scenes
Savings, Comfort and Control
Lyric makes it easy to automate scenes for energy savings, comfort and security.  Leaving for the day?  Your lights can go off and the thermostat can adjust itself to a more economical setting.  Unlock the front door for a babysitter at the same time every week, have the lights turn up as the sun goes down and always enter a comfortable, well-lit home.  The only limitation is your imagination.
Mobile Control
Any phone. Any tablet.  Anywhere.
Lyric turns your smartphone into a smart home – whether you're across the street or across the world.  Control security, thermostats, lights, locks, cameras and more whenever you want, wherever you are.  Know at a glance if a gate has been opened, a window has closed or if your home gets too warm or too cold so you can take action.  It's the smartest way to stay connected.  Just add Total Connect interactive service for remote system control.
Snapshots
Focus on What Matter
The Lyric Controller has a built-in camera that can send you a picture when the system is disarmed, making it a snap to stay in the know.  See when your child gets home from school and know exactly when the babysitter or dog walker arrives – anytime, anywhere, on any smart device. Total Connect interactive service required.
Video
Picture the Possibilities
Who says you can't be everywhere at once?  View live video on the go and see what happens the instant it happens on your smartphone or tablet.  Whether you want to peek in on your pets, check up on your parents, keep up with your kids or just keep them close, Lyric puts peace of mind in the palm of your hand.
Real-Time Video Alerts
Customize alerts by time, day or motion detection so you only see what you want to see.  Know if a delivery arrives, view who comes and goes and see what's going on when you're not there.
Camera Viewing
View up to four indoor or outdoor cameras at one time right on the Lyric Controller.  Or, look in on six cameras via mobile devices – a great way to keep an eye on your family and home wherever the day takes you.
Honeywell Total Connect Video Services
Lyric Keypad
Portable Protection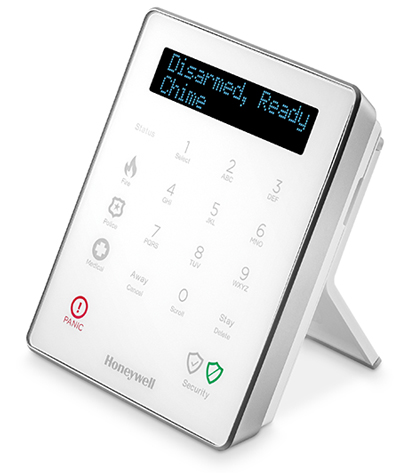 The Lyric Smart Keypad enables easy, on-premises security system control for the ultimate convenience and flexibility.  Sleek and stylish, it blends with any decor and can be placed on walls, tabletops or nightstands.  Arm or disarm your system, summon emergency response and receive system status updates with sound and voice virtually anywhere in your home.