DSC, a long-time player in the home and commercial security industry has released there newest wireless offering, iOtega.  Out on the market since early 2018 it is targeted for quick and easy wireless installation for professional security dealers.  That does not mean however its not a great home alarm system for DIY homeowners.  I'll give you a quick rundown on our company's impressions, as well as our DIY customer's feedback on this exciting new DIY wireless home security system entry.
Wireless, Secure, Fast and Easy Install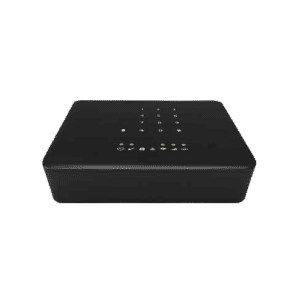 iOtega features DSC's industry-leading PowerG wireless technology providing a fully encrypted security system with end-to-end 128-bit AES encrypted bidirectional transmitters and includes in-demand user features such as a built-in siren, 2-way voice, and sleek appearance that blends in almost anywhere. Beauty by design, Iotega includes a capacitive touch keypad as well as an optional 7" Wifi enabled touchscreen, wireless arming station and software app powered by SecureNet a leading Interactive Services provider.
Wide Range Of Secure Wireless Protection Devices
Installation is relatively simple, just place and stick the wide range of wireless PowerG protection sensor/transmitters.  These include door and window sensors available in both white and brown, pet immune motion detectors, glassbreak detectors, smoke and heat detectors, outdoor motion detectors, carbon monoxide detectors, shock detectors, flood detectors, keyfobs, and secondary wireless keypads.  Basically everything we need to use when we do our own professional installations here in Philadelphia and will be the same for DIY homeowners.
On the positive side, both WIFI and Z-Wave home automation capability is built-in to all iOtega models.  iOtega is also the first system we know of that also is Z-Wave Plus capable.  Being able to control lights, locks, thermostats, etc. in the home locally, and of course from anywhere when using SecureNet interactive services is one of the reasons to consider iOtega.  I'll also note that there is also an Ethernet jack on the back of the unit to connect to a switch or router too.  Few systems now a days include a wired Internet jack.  You may not need it but its there anyway.
We like the look of the black cube when sitting on an end table, night stand, or kitchen countertop. The touchscreen keypad is hidden until your hand comes close to the cube and lights up.  Very cool.  If you need additional keypads placed around the home they are available when you want to go traditional but since with interactive services any smartphone can easily control the iOtega securely as well.  If you are in bed and wondering did you remember to arm the security system, just grab your cell phone and check, and activate if necessary.  The same goes if at the office and wondering the same thing.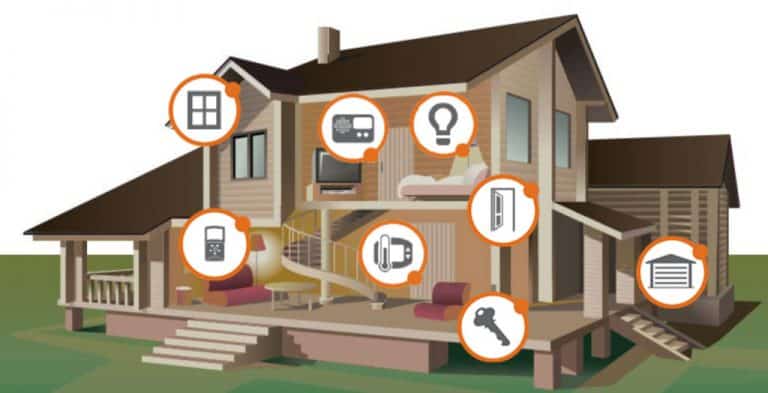 And of course with Z-Wave home automation you can adjust the temperature of your home when starting your return drive from work.  There are som many Z-Wave compatable thermostats, light switches and modules, locks, blinds on the market sold at the big box stores such as Home Depot, Lowes, Best Buy, as well as many, many online dealers such as us.
Interactive Services With iOtega
Interactive Services is the piece in between your hardware and the central station.  In the iOtega's case DSC has chosen SecureNet to provide remote access to your system's security and home automation (and also video) functions.  SecureNet receives the Internet and/or cellular communications and relays this to your smartphone app, as well as the central station in the case of alarm conditions.  Their smartphone app is available for both iOS and Android and is accessable from laptops/PCs as well for truly convenient access to the iOtega system, from anywhere in the world securely.
Our Concerns with IOtega
The only real negative with the iOtega panel itself is the lack of local programming from the integrated touchscreen keypad.  Rather DSC decided to rely on the SecureNet dealer portal to handle all programming entry.  While this is not really a problem for dealers with their installations it could be for DIY homeowners.  To combat this issue some online dealers such as SafeHomeCentral provide free programming and configuration change for the life of the system, or more specifically as long as interactive services with SecureNet is continued by the user since that is the access vehicle for remote programming into iOtega.
One other negative I'll note is if you want cellular alarm monitoring this must be chosen from the start rather than added at a later time.  DSC has integrated the cellular circuitry onto the main motherboard.  Therefore they sell three models of the iOtega: WIFI Internet communication only, WIFI Internet and AT&T cellular, and WIFI Internet and Verizon cellular.  This also means if you decide you want to change cellular carriers because of signal/coverage issues later you are locked into the carrier built-in to the motherboard.  Also what happens when 3G or 4G technology sunsets in the future?  Other security systems such as Honeywell (their Lyric model for example) provide a slot on the side of the main unit where a cellular module can be inserted by an end-user keeping the product future-proof.  To be fair this may not be a real negative for most homeowners since DSC went this way to keep the iOtega price affordable, but it's worth pointing out.
Should I buy the DSC iOtega?
If you are looking for a truly affordable professional grade security and home automation system the DSC iOtega is one to look hard at.  It's backed by DSC a long time, trusted security brand, and installation is fast and easy especially with online assistance for remote programming.  To be completely upfront however we generally use the Honeywell Lyric wireless system for our own professional installs unless a customer really wants to use a different brand or model we sell and support.  The Lyric does cost a little more but it also delivers a lot more and does not have the issues I pointed out earlier with iOtega's local programming or cellular options.
Regardless its hard to go wrong purchasing the iOtega.  Everybody has their own protection and automation needs and of course price point.  As far as pro-grade wireless systems today, the DSC iOtega is the least expensive.  Consider starting with a prepackaged kit from DSC as well.  They come with three door/window sensors and a motion detector.  Definiteiy a money-saver!
Check out our other wireless system reviews for 2019 as well: