Interactive Services is the component that adds remote control capability to a home security and automation platform.  The days of just remotely arming and disarming your alarm system from a smartphone have given way to controlling lights, locks, and thermostats as well.  And don't forget about video whether a video doorbell or interior or exterior cameras.  Everything can now easily be controlled by a single app from essentially anywhere you have cell service or WIFI coverage.
The Interactive Services company chosen must match with the cellular or Internet communicator installed in your alarm panel.  For example, if you have a SecureNet cell card you must use SecureNet's interactive service.  If using an Alarm.com cell card (whether built-in to the panel of external) it can only talk to Alarm.com's data centers.
Interactive services which gives end-users the ability to remote control functions of their security and home automation from their panel must attach to the backend servers by cellular, Internet, or both for redundancy.  Landline connectivity direct to a central station does not have the ability to control your system.
Honeywell Total Connect 2
Honeywell security systems traditionally use AlarmNet (owned by Honeywell) for interactive services.  Total Connect 2 is the interactive services app that controls a compatible Honeywell residential or commercial panel from a smartphone, tablet, or computer.  This includes the Vista series hardwired alarm controls as well as wireless Lynx Plus, Lynx Touch, and Lyric systems.  ADT SafeWatch Pro 3000 panels are just Honeywell Vista-20P with special firmware loaded and can easily be converted to a generic Honeywell panel with a pop-in PROM change on the motherboard (kits available).
AlarmNet has been around the longest because Honeywell has been the leader in the residential and commercial security arena for almost 50 years and was first to market.  Their latest generation app (TC2) is very simple to use, easy to understand, and works on both iOS and Android phones/tablets and any PC with a browser.  There are tabs setup for the different alarm monitoring plans purchased.  For example, if you sign-up for "Smart Security" only the Security tab will work, if using "Smart Home" then there also is an Automation tab for controlling lights, locks, and thermostats.  Add video and the Video Doorbell and Camera tabs appear.
Alarm.com
Alarm.com is a newer interactive services company on the market but already 17 years old now and arguably the best app for remote control of compatible alarm systems.  ADC does not actually make hardware though does market communicators and other accessories specifically for use with their data centers.  They have partnered with multiple alarm manufacturers such as Qolsys, 2GIG, and Interlogix to provide superior interactive capabilities to their panels well above what was already on the market.  Qolsys for example uses cell modules embedded on their motherboard and went all-in with Alarm.com whereas 2GIG, which uses a plugin cell communicator strategy, can use cell cards from Alarm.com, Telguard, or SecureNet.
What has set the Alarm.com service apart is the number of included features when compared to their competitors.  Daily supervision of the connection to Alarm.com is standard with options for 6-hour and hourly check-in, activity monitoring of sensors even when the alarm system is not armed, Crash and Smash protection is included for capable systems (sends a signal before a wireless control panel can be ripped off the wall and smashed), and Image Capture on Alarm.  This last feature applies to Alarm.com Image Sensors which combines an interior PIR motion detector with a high-quality video camera enabling snapshots to be sent to the app when the motion detector goes into alarm.
Telguard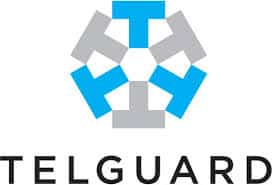 Telguard's focus in the residential security market is has been "telephone-capture" cell communicators.  These devices connect to the landline connection on hardwired panels and essentially trick the alarm panel into thinking it still has an active landline for dialing out to the central station.  These capture devices such as their popular TG1 Express are universal in nature and work with any alarm hardwired alarm system with dial-out capability.
Telguard introduced their Flex Interactive Services to augment their cellular connectivity so end-users could remotely arm and disarm their security system as well.  While the TG1 is a great universal cellular communicator getting end-users migrated off expensive landlines and over to cellular which will save money while reducing risk, it is not a very good interactive services device because not all control panels can easily be setup for remote control.  Keyswitch arming or at least a way to configure a zone and output trigger to arm and disarm is needed.  The TG1 Express models are not very DIY friendly when interactive services is needed and better suited for a dealer to setup locally.
Alula

When two well known names in the security industry merged in early 2018, ipDatatel and Resolution Products, Alula emerged on the scene.  ipDatatel already had a solid interactive services platform that serviced their popular product line of cell and Internet communicators.  When the name changed to Alula so did their app though it also came with some cleaning up.  It can certainly remotely arm and disarm compatible security systems, control Z-Wave home automation devices, and integrate Alula video cameras but its frankly still "basic" in its overall feature list when compared to Alarm.com or Total Connect 2.  Because Alula (ipDatatel) makes so many communicators their Interactive Services platform is compatible with many different alarm system brands and models.
SecureNet

SecureNet Technologies is a small Florida based interactive services service formed in 2003.  They have a good all-purpose app (SmartLink+) for controlling various alarm panels using a SecureNet compatible cell card.  In some cases they are the only available remote control service (example the 2GIG Rely) but in other cases such as Resolution's Helix and DSC's iOtega they have lost ground and not the only available interactive services choice.  Their customer support is excellent, and the app is clear and easy to use, albeit somewhat basic in functionality.  They do not have the range of compatible video cameras and video doorbells as some of their competitors such as TC2 or ADC.