How To Add Wireless Sensors To My DSC PowerSeries Panel
Adding wireless sensors to a DSC PowerSeries panel is not difficult assuming you have a wireless receiver installed which can be a standalone receiver attached to the panel (RF5132-433 for example) or integrated into a keypad (such as the RFK5500).  Obviously a wireless receiver (433Mhz) for standard PowerSeries panels that begin with PC or 915Mhz PowerG for Neo panels which start with HS.
The first step is determining the firmware version of your panel since the instructions are different depending on value. For firmware versions V4.6 and above or a NEO panel use Method 1.  For standard PowerSeries panels that are V4.5 and below use Method 2.  Look on the motherboard for a GREEN sticker which will show model and firmware version.  Method 1 is definitely easier but not supported on the older panels.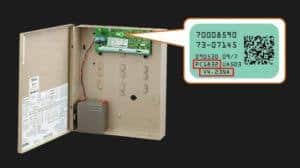 Method 1 (Section 898)  For Neo and PowerSeries V4.6 and higher only
Enter Program Mode:  Enter *8 + [Installer Code].  The red lock light will illuminate and Section will display depending on keypad style.  The default Installer Code is 5555 or 6321.
Enter Wireless Enrollment Mode:  Enter [Section 898]
Enroll Wireless Sensor:  Trip the sensor by tampering (opening the case on the transmitter or moving the magnet away for door contact for example
The ESN will display after tripping the sensor.  Confirm the ESN with tag on transmitter.  Press * to confirm
Enter zone number to be used:  Enter two digit zone number such as 13 or 07. If a wireless keyfob enter 2 digit keyfob number such as 01 for first keyfob in system.
Repeat for multiple sensors otherwise press # when finished.
Exit Program Mode:  Enter # # #
Test the sensor to be sure its registered and working as expected
Method 2 (Section 804) For PowerSeries firmware V4.5 and below
Enter Program Mode:  Enter *8 + [Installer Code].  The red lock light will illuminate and Section will display depending on keypad style.  The default Installer Code is 5555 or 6321.
Enter Zone Type in [Section 001 to 004].  [Section 001] will have either 8 two digit entries or 16 depending on model panel.  Common types are 01=Exit/Entry, 03=Perimeter, 05=Motion.
Program Zone Attributes: Enter [Section 101] thru [Section 132] and be sure "8" is ON for wireless.  For example [Section 101] is for Zone 01, [Section 105] is for Zone 05.  
Program Partition for wireless sensor:  Enter [Section 202] through [Section 205] for Partition 1 zones.  Enter [Section 210] through [Section 213] for Partition 2 zones.
Enroll Wireless Device.  Enter [Section 804] and enter 2 digit zone number such as 08.
Enter the 6 digit ESN number on the wireless device.  If your panel is looking for an 8 digit ESN then add 00 to the beginning of the 6 digit ESN.  
Repeat for multiple sensors otherwise press # when finished.
Exit Program Mode:  Enter # # #
Test the sensor to be sure its registered and working as expected